Ufi's 200th Project: What Are People Saying?
Blog by Stephen Hinde, Community Manager for Ufi VocTech Trust
---
---
This week we announced that we're celebrating our 200th grant award. As the news spread across our community, here are some reactions from the Ufi team, the Trustees, and projects we've funded and supported.
Tom Wilson, Chair of Ufi's Trustee Board, started off the week talking of Ufi's early days, how we got to where we are today, and what our work means for vocational learning across the UK. He said:
The impact caused through the 200 projects we have funded is huge and the number of people who have benefited by our work is thought to be in the millions. Everyone should have access to online vocational learning - we show that's possible.

We celebrate a stunning milestone - our 200th project.

The Ufi trustees and team are immensely proud of this achievement.
You can see Tom's full comment in our 200th milestone press release here.
---
Ufi do more than just fund projects to improve skills for work using digital technology. Ufi also offer expert project support and extra enrichment, including access to our community of projects past and present for peer-to-peer learning, so that each and every project can achieve the best it can.
Veejay LIngiah, CEO of Learning Labs Flash Academy said:
I'd like to congratulate Ufi VocTech Trust for this milestone.

I'm confident that the other projects will have received, or will receive, the same level of support and extra enrichment that Ufi offered us in the delivery of our project.
Veejay and his team were awarded a grant to develop a workplace language learning platform which improved workplace communication, health and safety, and productivity for multi-lingual workplaces.
Also wishing to comment on our milestone and added support, Priya Lakhani OBE, Founder CEO of CENTURY said:
Everyone at CENTURY would like to congratulate Ufi for this milestone, a testament to the hard work and brilliance of its staff.

The expert support they gave us during our project to help college learners use AI to succeed was invaluable.
---
We wouldn't be announcing our 200th project if the events of recent times hadn't unfolded, we would likely - and here's my accurate estimation - be announcing this milestone in early 2021. It's bittersweet to think that a global pandemic got us to where we are more quickly, but Covid-19 forcibly brought home the importance of digital technology in the delivery of vocational education.
Those of you who know Ufi, some of the team, and our operations might like to hear that Louise Rowland, Programme Director for Ufi VocTech Trust, has recently been appointed as our Deputy Chief Executive Officer. Reflecting on the news of our milestone, Louise said:
In celebrating the 200 projects we also celebrate the Ufi team.

Our focus is on the success of our projects and we want to maximise the benefit of the innovations we support so that more learners can benefit from vocational learning.

The Ufi family of staff, freelancers, assessors, and experts enables us to ensure we offer more than just money.

Through our evaluation we have learnt that access to expertise, being part of a community, and having a Project Account Manager can help on the pathway to success.

Thank you to the Ufi team for your creaivity, ingenuity, advice, challenge, humour, and above all - commitment to the Ufi mission.
---
Ufi's mission is to support the development of digital technologies that help us all obtain the vocational skills we need to get more out of our working lives.
There are a small group of people who's main focus is on ensuring that we achieve our mission - our Trustees.
The Trustees are volunteers who govern and direct Ufi's journey - each with their own personal reason to be doing what they do for us. You can see all of our Trustees here.
Trustees commented;
The importance of vocational education in giving people and businesses the skills needed for work has never been higher and the innovative use of digital technology is crucial in making this happen.

Not only have Ufi's 200 funded projects directly impacted learners, employers and institutions in providing a better, more impactful experience; our intervention and expertise is having a catalysing effect on how the market views VocTech, as evidenced through our Ventures programme.

I'm immensely proud to be part of Ufi.

Dominic Gill
200 projects is a real testament to the level of innovation in the use of technology to step change vocational skills.

I'm delighted to see Ufi acting as a catalyst for change across so many sectors, not just in funding, but also the highly capable project support.

Alex Cullen
I have been enormously impressed by the refreshing invention and quality of projects that Ufi have funded and supported. They have been varied and all seek to significantly improve the success of learners and those who deliver vocational education.

Bryn Davies
---
Here are some messages of congratulations, support, and acknowledgements from the Ufi team including Project Account Managers and Freelancers:
Having 200 projects, past and present, is an exceptional milestone for Ufi VocTech Trust.

We rely on our projects to identify challenges in delivering effective vocational learning, and work with them to provide practical solutions to these challenges.

We wouldn't be able to showcase the importance of digital technology in improving skills for work without them.

Jane Holmes, Freelancer.
---
Using digital technology to improve skills for work is at the heart of Ufi's mission.

What's fascinating to see is how each of our projects throws a new light on the challenge and brings their particular passion for a group of learners or technological solution.

They each offer something unique to our community.

Hilary Stringer, Freelancer
---
I'd like to congratulate all of the projects, and not just the ones I have been responsible for, that have completed and I'd also like to wish good luck to the recent projects who are only just getting started.

Mahreen Ferdous, Project Account Manager
---
I'm thrilled that Ufi has supported innovators with now 200 grant offers made.

The projects are the ones changing how skills are learned and there's never been a more important time to highlight those organisations and educators who consider technology as an enabler to equip people with skills for work.

Kriss Baird, Freelancer
---
It's mind boggling to reflect on the diversity and breadth of sectors, locations, technologies, and innovations across the projects.

It's a privilege to be part of the team as we support and celebrate their individual journeys and successes.

Caroline O'Donnell, Project Account Manager
---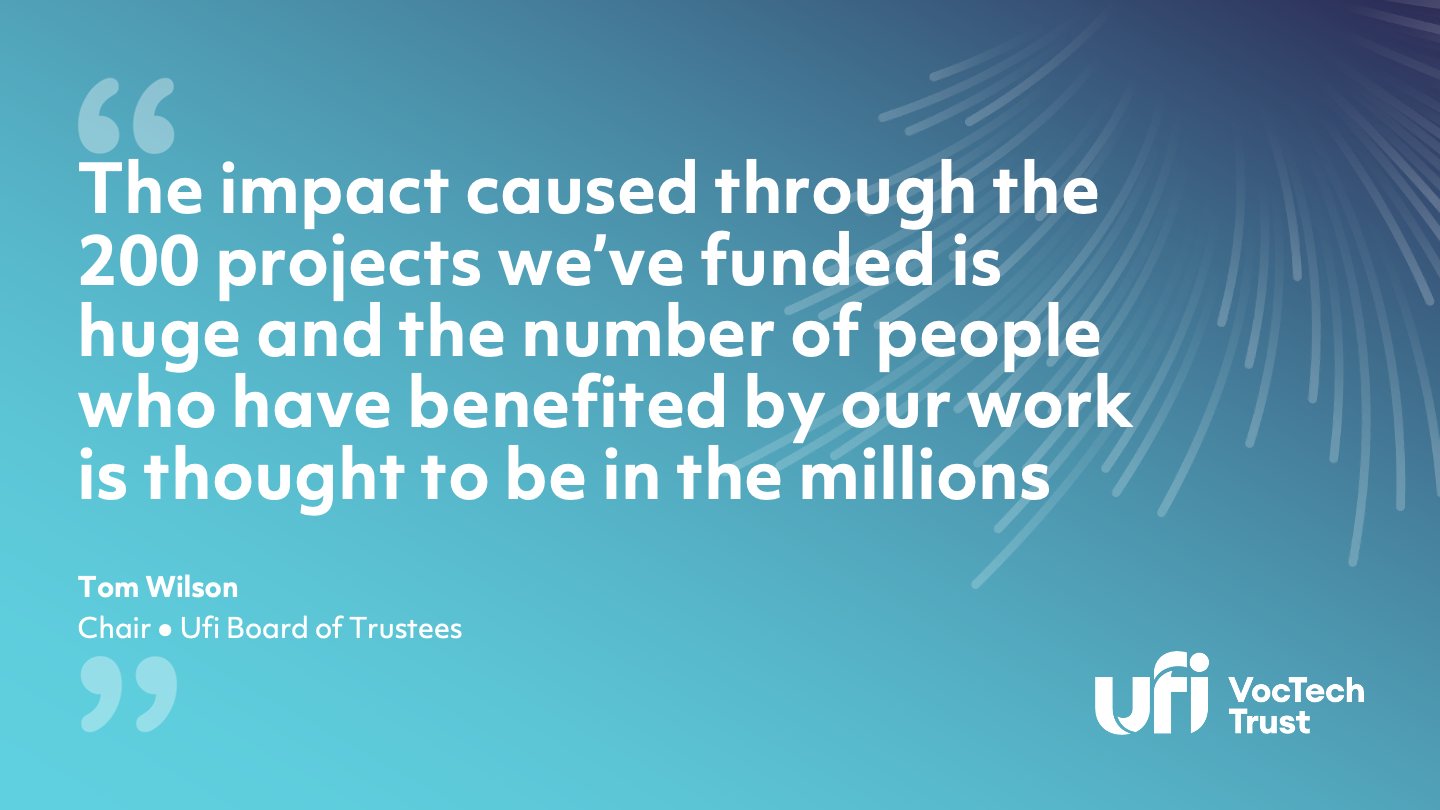 ---
To keep up to date with future funding calls and to find out about the range of resources we are constantly developing, sign up to receive our Community Newsletter and connect with us on LinkedIn and Twitter to see the latest funding news and stories from projects we've supported.