VocTech Seed: What's It All About?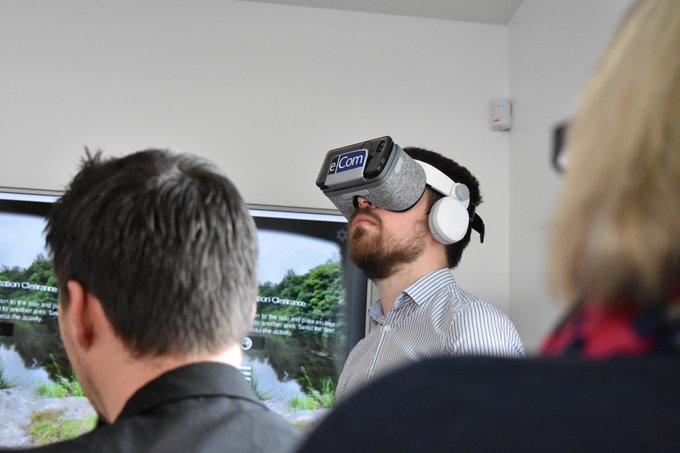 ---
Blog by Stephen Hinde, Community Manager for Ufi VocTech Trust
On Tuesday 21st July we welcomed a new cohort to the Ufi family - VocTech Seed 2020.
VocTech Seed is our testbed where the first spark of an idea can be scoped and tested. Ideas are early stage and projects often prototype ideas and work out the necessary steps to long-term success.
The online workshop was a chance for the new cohort to meet each other, learn about each other's ideas and innovations, and also look ahead to what their journey with Ufi has in store.
Over the coming months we will be taking a look at the VocTech Seed 2020 projects in more detail once they've started delivery, or perhaps later once they've completed. To give you an idea of what projects can achieve with our VocTech Seed funding (£15,000 to £50,000 for projects lasting 3 to 12 months) here's a look back at a selection of completed projects.
---
eCom Scotland - Digging in to the Past with VR
eCom's goal was to prove that using virtual reality in the training and assessment of vocational tasks could prove beneficial to the learner, and the learning provider. After successfully proving the concept is viable, they have now moved on to start developing an authoring tool that will enable non-technical staff in organisations to create their own VR training and assessment material.
---
Northwest Regional College - Augmented Healthcare Tools
Augmented Reality has been shown to be effective in engaging people in certain settings and this project tested these approaches in healthcare.
Learners are able to access to content via various media types using an AR app, free to download, on a smart device. The app's prototype was funded by Ufi and offers healthcare students a new style of learning, with the flexibility to learn 'on the go'.
Using the app increases confidence in the use of clinical equipment. For example, using smart devices, learners can access short video tutorials, animations, and images on using vital signs monitoring equipment, prior to carrying out the measurement with the service user.
Learners can aim their device at access points on hardware to display learning materials on their screen. This supports the learner, helping to increase their confidence to measure safely and effectively in real-time.
---
GTA England - Engineering Apprentices Mate
The aim of this project was to develop an augmented reality app that would support trainers and apprentices in the teaching and learning of heavy machinery. Through a smart device's camera, the app recognises machinery and is then able to overlay relevant learning material and instructions.
---
Wizenoze - The Web for Classrooms
VocTech Seed projects typically last up to 12 months but Wizenoze became well-known at Ufi for being one of the quickest projects we've supported - delivery took less than four months.
Wizenoze had an existing platform which was working in schools but wanted to explore the capabilities of the tool being used in vocational environments and Further Education Colleges.
Their testing showed that WfC does have the potential to help vocational students make significant learning gains but it also uncovered new development needs for the vocational education sector. The pilot revealed that vocational content from employers and professional bodies for new entrants into the sector is difficult to find online. Feedback from the educators and students involved in the pilot suggested that this is partly because there is just not much relevant content out there; and partly because existing vocational/technical content is commonly written at the highest reading level. This makes comprehension of the latest workplace learning materials difficult for many college students.
Because of Ufi's flexible and supportive funding approach, Wizenoze were able to rapidly deploy their solution and test out their research hypotheses in a project that took under four months to complete. They were able to quickly uncover highly relevant 'pain points' within the vocational learning environment and are now focusing on a potential solution to address these. The findings also highlight the need for vocational authors to shift their approach to producing content that uses less complex language to improve comprehension and make information more accessible. These findings, together with exciting new tech like that available from Wizenoze, is important in maximising learning impact, supporting new entrants to be more work ready, and improving the flow of suitable new employees into a wide range of industries and sectors.
---
For more case studies and to find out more about the various funding rounds offered by Ufi VocTech Trust please take a look at our strategy - Learning Without Walls: Beyond 2020
---
To keep up to date with more stories from companies and projects we've supported, sign up to receive our Community Newsletter and connect with us on LinkedIn and Twitter.
---